Ordering Food for Delivery — New Opportunities from Stravopys
Every week, the government introduces new quarantine measures and adopts appropriate legislation restricting society's options for spending their leisure time. People are forced to adapt to the non-standard working conditions of restaurants, entertainment establishments, shopping malls, and cinemas, and spend cold evenings at home watching movies and family dinners. However, quarantine is not a reason to give up tasty dishes from your favorite food locations. Home delivery comes to the rescue.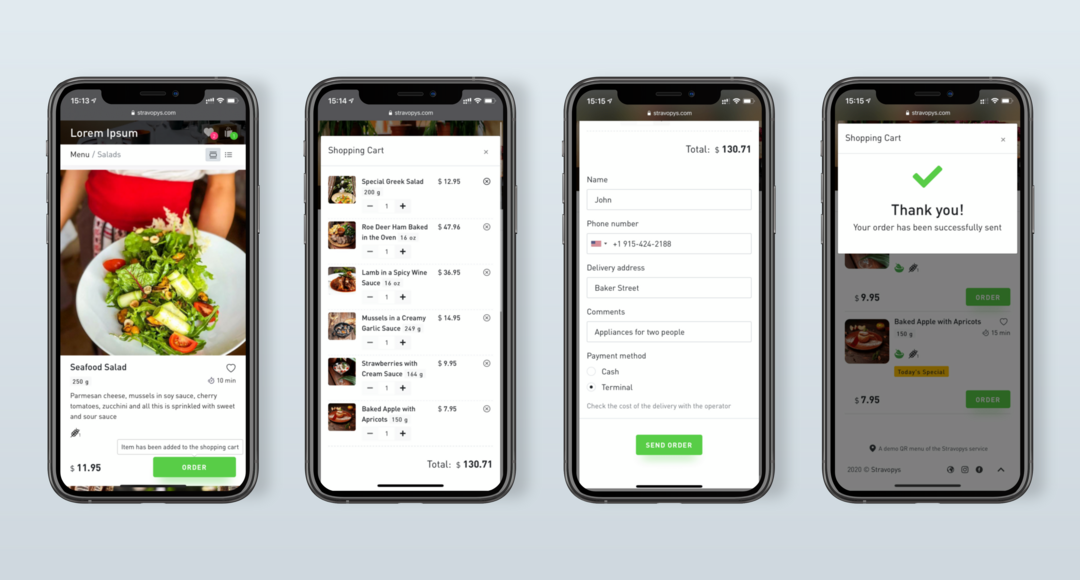 For restaurateurs, this is a new challenge that requires fast, convenient, and safe delivery of food and drinks to consumers in order to remain in demand on the market and cover losses from the pandemic. More and more establishments prefer their own couriers or taxi services instead of well-known aggregators because this allows you to significantly save money and deliver orders exactly where you need them, without being tied to someone else's rules. Self-delivery is the most profitable and convenient approach to the restaurant business in a lockdown, however, it requires certain technical solutions, one of which is the answer to the question: "How will visitors order?" Is it really necessary to create your own website and pay three-digit amounts in foreign currency to maintain and improve it?
Fortunately, it's not just your own web page that can help you stay a profitable restaurant during quarantine and take care of your customers. Stravopys QR Menu Maker knows the needs of restaurateurs and is improving for you! Imagine having created an electronic menu once — you can distribute it on the tables of your establishment via QR codes, share a link to it on social networks, and soon you can also accept orders for the delivery of your favorite dishes from your customers!
The contactless menu has long become not only a sign of modernity but also an urgent need on the way to combating the pandemic. The Stravopys service will help you easily and conveniently adapt to the new government requirements, which allows you to quickly create a stylish QR menu for a restaurant, cafe, or pub using an intuitive administration panel with many irreplaceable functionalities:
Displaying of "Special offers" on the main page of the menu with the ability to indicate special prices and conditions.
Connecting a payment service for paying with Visa, Mastercard, and Prostir cards of any bank through Google Pay and Apple Pay e-wallets or in cash through a payment terminal.
Creation of orders through the menu for the client and their processing on a special page in the admin panel.
Adding labels that draw consumers' attention to certain products (for example, the "New" label).
Possibility to specify the cooking time.
Indication of the spiciness level of the dish, a list of allergens contained in the dish, and designations for vegetarian dishes.
Labels for soft drinks.
Indication of the strength and taste of hookah tobacco and much more.
Register and create your own e-menu with the ordering and delivery function to be ready for any challenges and new conditions, because with Stravopys you can do it quickly and easily! We make sure that you do not waste your money and suggest that you try to create your own modern and flexible QR menu with the ability to accept orders for delivery in the Stravopys constructor without obligation. It will only depend on you whether you want to subscribe to a paid plan for $19/month, which includes all the best and most convenient ways to make an online menu stand out from competitors and give aesthetic pleasure to users when viewing your restaurant's dishes. An annual $199 subscription allows you to receive two months of use as a gift.
---