Stravopys — The Next Generation of Menu
Service for creating a contactless menu accessible by QR code. Designed for managers of cafés, restaurants and bars who want to give visitors a new experience of interaction with a convenient interface for demonstrating their dishes and drinks
What is it about Stravopys?
We use modern trends in design and technology, focusing on usability for both managers and visitors
Simplicity
No technical knowledge required, everything is simple and intuitive
Beauty
Beauty at every level, in every pixel and in every line of code
Reliability
Multilevel effective protection of data
Profitability
Visual menu attracts visitors and increases sales
Modernity
High-tech interface corresponding to the era of digital transformation of society
Flexibility
Dynamically changing menu allows you to display the most relevant information
QR Menu
A beautiful interface will help visitors explore the menu and choose their favorite items
Scan the QR code on your phone to see a menu
Direct link
How to create a QR Menu in Stravopys?
We recorded a short video with an example of registration, updating information about an establishment, creating categories and subcategories, adding positions and generating a QR code for menu
Create your menu
Adaptive design

Add and edit menu items anytime on any device

Personalization of the menu for any needs

Use a personal cover photo on the menu page with contact information

Allow visitors to no longer manually enter Wi-Fi password

Allow visitors to no longer manually enter their password. Now you can just scan the QR code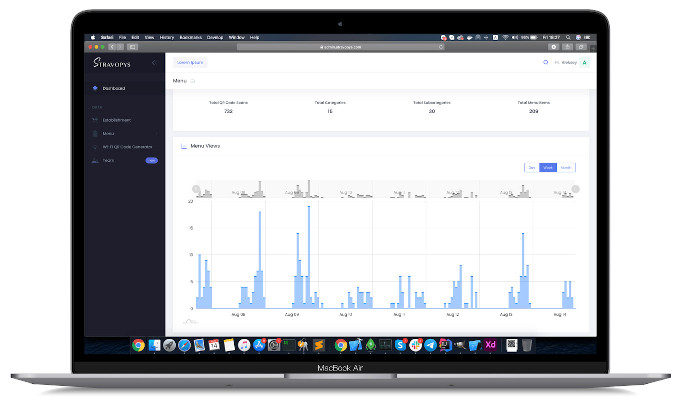 Frequently Asked Questions
We have prepared a list of the most common questions that our customers ask us.
How much does a Stravopys menu cost?
Free of charge, but if you wish, you can activate additional services, which can be found in the pricing plans.
How to create a menu in Stravopys?
Sign up in the Administrative Panel, add information about the establishment, create categories (e.g. Food, Drinks, Hookahs), create subcategories (e.g. Soups, Grill, Desserts) and add menu items with images, prices and descriptions (e.g. Borsch, Miso-soup, Chicken-soup).
Can I make an order through Stravopys?
Such an opportunity is not available without the participation of a waiter at the moment, Stravopys is designed to replace or supplement the traditional paper menu.
Why is Stravopys better than analog services?
Because of cost, intuitive and laconic interface focused on the wishes of customers and high-quality services.
In which countries does Stravopys work?
No limits. The menu and the administrative panel are localized in Ukrainian, Russian and English.
Pricing Plans
Our plans are designed to deliver maximum quality the most convenient conditions
Free
0 $
Administrative panel
Menu with QR code
Wi-Fi QR code generator
Favorite food list
Statistics
Dish of the day
Event page
Select
Standard
10 $
Administrative panel
Menu with QR code
Wi-Fi QR code generator
Favorite food list
Statistics
Dish of the day
Event page
NO OBLIGATIONS
Register and create a lovely menu for your visitors
Register Now
A free plan may include additional services with a limited trial period.